Submitted pics will be rated on a scale of one to five packages of Top Ramen noodles:






A culinary delight!!!!





Pretty damn good!




Not bad, but needs hot sauce.



Check please!


Not fit for dogs!
'Selfportrait1' submitted by Kellibabe 7.8.2000




I gave Kellibabe 3 Top Ramens. A little
more detail between those curvy lines (heh)
would have won her two extra packages!
'The Weirdo' submitted by Cameron 5.14.00








My highest rating!!
(extra points given because he's my kid, and he submitted the first picture)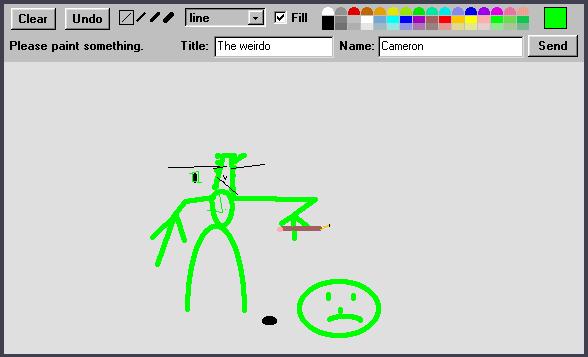 My son explains it this way: "There's this guy, and his head fell off... so he takes a pencil and draws a new head, but the eyes fall out of that one."
Bravo, son.






hehe